Citizen scientists have been studying birds for over 100 years, and some of the most popular projects involve observing birds throughout the winter.  Below, we highlight five projects that study birds during the winter.  Whether you want to watch birds while outdoors or from the comfort of your home, we have a project for you!  Find more with the SciStarter Project Finder.
Cheers!
The SciStarter Team
Midwinter Bald Eagle Survey
In the United States, volunteers are needed in the first half of January to look for eagles along standard survey routes. It's always a treat to count these majestic birds!
Puget Sound Seabird Survey 
From October to April, volunteers in Washington state walk the coastline counting overwintering water birds. Data are collected on over 50 species!
South Texas Wintering Birds
Many birds spend the winter in South Texas. If you go birding anywhere in the region, either in an urban or rural area, report your bird sightings to this project.
Study Adelie Penguin Breeding
This is a great project for classrooms in November through January. Using online photos and data from Antarctica, students can study Adelie Penguin behavior. The project offers many online resources for educators.
Project FeederWatch
If you enjoy watching birds from your window, this is the perfect project for you! In North America, citizen scientists can observe and report on the birds visiting their feeders during the winter months.
At SciStarter, we aim to make it easy to find and join meaningful citizen science projects. Choose a location, activity, or topic to find appropriate adventures and learn more about the project and what tools (sensors, digital scales, rain gauges, etc) are needed to participate. But, for many projects and would-be participants, there are challenges to accessing the right tools for the job. (We define "tools" as equipment not usually found at home.) So, we took the follow steps to find a solution and are ready for your help to populate a new database of citizen science tools.
Step One: We interviewed 110 people about their citizen science tool needs.
Through participation in the National Science Foundation's Innovation Corps for Learning program, a collaboration of researchers between SciStarter and Arizona State University's School for the Future of Innovation in Society and ASU's School of Engineering adapted lean launch methods to explore and develop a better understanding of the ecosystem of stakeholders around citizen science tools. Read More
When most people think about citizen scientists, they tend to think of them as data collectors, volunteering their time to report wildlife sightings, gather microbe samples, or transcribe old weather reports. It's true that data collection is the primary task of most citizen scientists, but many volunteers take their participation a step further by designing experiments, analyzing data, and conducting education and outreach. The last task is the one that I think is the most interesting and accessible to citizen scientists.
Citizen science volunteers have the potential to play a significant role in outreach and education. Many citizen scientists are truly passionate about the projects with which they volunteer, and that passion leads them to share their project's mission, key questions, and recent findings with others. Even participants who only dabble with a project can describe their experiences to friends and family. Read More
Last week was Thanksgiving, and all of us at SciStarter contributed to a list of which citizen science projects we are most thankful for. Although a number of projects came to mind, one stood out for me because it actually pulled me into the field of citizen science. This was ten years ago, and at that time, if someone had asked me what citizen science was, I would not have had an answer. So, what happened to bring about this shift in my career interests?
I was working at the Natural Resource Ecology Laboratory at Colorado State University, conducting research on invasive species, or species not native to an area and that harm ecosystems, the economy, or human health. At the time, our lab was trying to predict the potential spread of these species under present and future environmental conditions.
As Thanksgiving approaches, the SciStarter team would like to take this opportunity to
thank you
for advancing so many fields of research this year.
Below, the newsletter team shares projects we're especially grateful for this year.
And from SciStarter's developers:
Happy Thanksgiving!
The SciStarter Team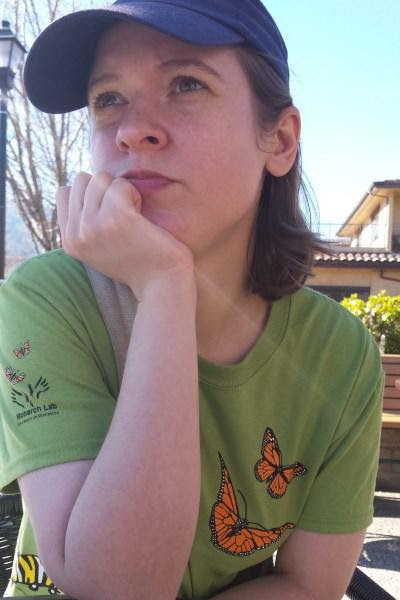 By Lea Shell
Middle school students are presented with a bucket of what, at first glance, looks like dirt. They pull handfuls onto their lab bench and carefully begin to sift.
"I found a shark tooth!" one student exclaims,  prompting the rest of the class to peer more intently at their own piles. Before long, they see that the 10-million-year-old sediment that they're sifting through—rejected from a nearby phosphate mine in North Carolina—contains the fossil remains of sharks. Some students go through several handfuls before finding a tooth, some just "get lucky," but they're all reaching into the bucket to see what they can discover. Read More
Contribute to research on sleeping, aging, and even your fidgeting habits. Something for everyone.  Below, we highlight five fun projects that contribute to our understanding of the human race.  Find more with the SciStarter Project Finder.
Cheers!
The SciStarter Team
Today is World Science Day, an internationally celebrated day to increase the public's ability to participate more meaningfully in science and to take action on environmental issues important to their community. The day also coincides with International Science Center and Science Museum Day. At SciStarter, we see citizen science as the perfect way to celebrate and promote science today (and everyday!).
SciStarter is partnering with NASA and its GLOBE Observer App to involve citizen scientists in understanding their global environment. You can participate today by downloading the GLOBE Observer App through the iTunes App Store or Google Play and use the referral code SciStarter.  Then, start classifying the clouds above you! Simple as that! Remember to use our referral code (SciStarter) and see your contributions on the GLOBE site!
When you're ready to do more real science with NASA, get involved in the El Nino project to ground-truth satellite data, monitor soil moisture levels near you, and more.
There are 1500+ citizen science projects and events on SciStarter you can do to celebrate World Science Day. Find one through the Project Finder.
For years,  weather-monitoring agencies around the globe have collected data to help determine whether and how tropical cyclones — called hurricanes in the US — change over time.
 But another thing that changes over time is the technology used to record storm data. This, combined with changes in record keeping standards has created an inconsistent dataset that is difficult to analyze collectively. Climatologists are left with two options: limit their research to a subset of the data and risk of a less representative analysis, or reorganize the data into a consistent format, a time- consuming task.
Cyclone Center, a collaboration between academic, non-profit and government organizations, is enlisting citizen scientists to attempt the latter. Through its website, volunteers are helping Although image classification is a common task in crowdsourced projects across multiple science fields, Cyclone Center is the first project to tackle such a massive meteorological dataset.  Read More
SciStarter and Arizona State University hosted change-makers from both the citizen science and maker movements at last week's first-ever Citizen Science Makers Summit. These two movements both aim to disrupt the status quo of science by changing who participates in the scientific process.
"Makers just dive in and create creative engineering solutions" says Darlene Cavalier, ASU Professor of Practice, Founder of SciStarter, and co-organizer of the event. "This characteristic mirrors that of the millions of citizen scientists around the world who are contributing to our understanding of the world and how we can solve today's problems."
The summit brought together the Maker and Citizen Science community, two "islands of misfits" in the scientific process, to determine how they can work together to move forward.
"We had people participating from government agencies like the Environmental Protection Agency, US Geological Survey, NASA, and the National Institutes of Health, along with people from foundations, industry, academia, librarians and local community leaders" says Micah Lande, Assistant Professor of Engineering and Manufacturing Engineering at ASU's Fulton Schools of Engineering and organizer of the event. The day and a half event consisted of panels, keynotes talks, lightening talks, and informal discussions to shed new light on the connections between the citizen science and maker communities.
The outcomes of this summit will be outlined in detail in a forthcoming white paper, but several outcomes are highlighted below.
Experts refined a forthcoming SciStarter database of tools to determine how we can better categorize the tools necessary for citizen science projects.
Panelists shared the educational resources available for maker projects and how these models of education may apply to citizen science.
Attendees brainstormed how SciStarter can link citizen science project managers with makers who can design and develop tools for their projects.
Panelists and keynote speakers addressed how we can popularize citizen science taking into account lessons from the popularization of the maker movement.
Makers shared their innovations and ideas at a nighttime Show and Tell.
Attendees discussed how to mobilize university resources to create formalized citizen science and maker spaces on campus.
Thank you to all the participants for sparking our curiosity and discussing the future. We can't wait to see what is next for these communities!
Related posts:
Citizen Science Summit brings power to the people.
ASU Leads Everyday People Toward Everyday Science Experiments.
Photos courtesy of Lea Shanley and Kaitlin Vortherms.