On Twitter, a popular health advocate makes this observation:
Pretty incredible, isn't it?
Here's another correlation that will blow your mind.
You can check out all manner of "spurious correlations" at this site, which Knight Science Journalism blogger Paul Raeburn and others have been noting of late.
I'm just catching up with several deeply reported articles on GMOs that are worth your attention. Molly Ball, a staff writer at The Atlantic, recently published a long piece that explores the swirling politics and emotions driving the GMO labeling campaign in the United States. She concludes: Read More
The London Based SciDevNet, which is "committed to putting science at the heart of global development," has an interesting post up today entitled, "Is science journalism ignoring censorship?"
The questions raised by the author, Nick Ishmael Perkins, are first discussed in the context of traditional censorship issues, such as when governments restrict access to information. This is fairly straightforward.
What is more vexing and hard to quantify is the problem of self-censorship, or what Perkins calls "low level censorship" that, for science journalists, is experienced at mundane or bureaucratic levels. He writes: Read More
In my previous post, I reported on legal threats recently made by Mike Adams against Forbes and one of its contributing writers, Jon Entine, who oversees the Genetic Literacy Project. Entine is hardly the first science writer/blogger to shine a spotlight on Adams, whose penchant for raw foods, alternative health treatments and various outlandish conspiracy theories enables him to straddle multiple fringe-dwelling worlds.
So before my post was published, I emailed Adams to ask if he has ever pursued legal action against any other writers who had written similarly unflattering articles about him. He never answered that specific question, but he did send a long response, which I post below in its entirety. Read More
It is not unusual for public figures to be unhappy with how they are portrayed in the media. Sometimes their complaints are understandable, other times not so much. What is unusual is for a public figure to take legal action against a journalist.
That's because in the United States there is a very high bar for a defamation claim. A landmark Supreme Court decision 50 years ago ruled that a public figure cannot recover damages "unless clear and convincing evidence proves that a false and defamatory statement was published with 'actual malice' – that is, with knowledge that it was false or with reckless disregard of whether it was false or not."
But if you are someone who still wants to punish a journalist for something he or she has written, you don't actually have to sue. You just have to rattle a few sabers and threaten legal action.
This appears to be the tactic Mike Adams is using in an attempt to intimidate Forbes and muzzle one of their contributing writers/bloggers. Much more about that in a minute. First some background: Adams is the founder and operator of an internet website called Natural News, which, according to its mission statement,
covers holistic health, nutritional therapies, consciousness and spirituality, permaculture , organics, animal rights, environmental health, food and superfoods , and performance nutrition.
The Wikipedia page on Natural News is a good place to start if you never heard of Adams and want learn what he espouses and what the science blogosphere has written about him. For example, Wikipedia notes (my links) that, "Adams is an AIDS denialist, a 9/11 Truther," and has "endorsed conspiracy theories surrounding the Sandy Hook Elementary School shooting." Adams now objects to this characterization, yet he provides all the proof with his own writings.
At RationalWiki, you can browse from a ghoulishly absurd spectrum of conspiratorial offerings from Adams, including the one about Bill Gates and Microsoft developing weaponized influenza viruses, to achieve their "ultimate goal of wiping out a significant proportion of the human race."
Unsurprisingly, Adams is a regular voice on the most feverish conspiracy forums.
By now, I can imagine what you are thinking. This guy is so far out there that who of sound mind–knowing all this–could possibly take him seriously?
Well, try wrapping your head around this: Dr Oz just had Adams on his TV show. Is it possible that neither Oz or his producers were aware of Adam's notorious history? Here's one incredulous reaction.
Anyway, all the kooky things that Adams puts up on NaturalNews.com and says all over the internet are there for you to check out yourself. For some examples, just follow the links I provided above. Or you could read the recent profile of Adams by Jon Entine at his Genetic Literacy website. The piece was cross-posted at Forbes, where Entine is a contributor to their website. (He is not on the Forbes editorial masthead. Rather, Entine, a science writer, is part of a large "content" network at the website.) For his piece, Entine drew almost entirely on Adams' own writings, the public records of his various companies, and what scientists and other science bloggers had to say about him.
Adams did not appreciate the piece, which characterized him as "anti-science" and focused on his crusade against GMOs and how that commingled with his various conspiracy theories. He immediately went after Forbes and Entine.
To see how that has played out over the last month, let's rewind the clock to April 3, when Entine's unflattering profile of Adams was posted on the Forbes website. That day, Adams contacted Forbes to complain about factual inaccuracies and slanderous statements in the piece. He demanded it be taken down. Forbes complied, but it also asked Adams to spell out the alleged falsehoods in an email.
The next day, Adams sent a lengthy missive, detailing all the "corrections." The gist of them: He objected to being called "anti-science," an AIDS denialist, a 9/11 truther, and so on. In an email addressed to the Forbes editor, he wrote: Read More
I'm not feeling the love: Read More
Unlike some in the science blogosphere, I haven't found it worthwhile to write much about Mike Adams, whose conspiracy-laden screeds and paeans to raw foods and unproven alternative medicine treatments appear on a website of his called Natural News. (I have briefly discussed Adams on one previous occasion.) Here's an apt description from David Gorski:
His website is a one-stop shop, a repository if you will, of virtually every quackery known to humankind, all slathered with a heaping, helping of unrelenting hostility to science-based medicine and science in general. True, Mike Adams is not as big as, say, Joe Mercola, whose website, as far as I can tell, appears to draw more traffic than NaturalNews.com, but what Adams lacks in fame he makes up for in sheer crazy.
That is no exaggeration. Mark Hoofnagle calls him
a deranged individual who denies HIV causes AIDS, promotes some of the most absurd quackery in the world, and also is such an all around crank you can rely on him to wax conspiratorial about almost any dramatic news story.
For example, here he is on Alex Jones's uber-conspiracy show, talking about the "zombiefication of America." Read More
For GMO opponents, it's been a good news/bad news week. The good news: Vermont became the first state to mandate the labeling of foods containing genetically modified ingredients. (More about that in a minute.) The bad news: New York Times food writer Mark Bittman, a darling of the food movement, wrote a column that called on his compadres to stop obsessing about GMOs, particularly the labeling issue, which "plays on irrational fears."
The battle over GMOs, Bittman said, was not important to the larger goal of sustainable agriculture. What's more, "the technology [involving genetically modified foods] itself has not been found to be harmful," he wrote, and its "underlying science could well be useful." How do you suppose this went over in organic food co-ops across the United States, where GMOs are about as welcome as disposable plastic bags?
Bittman's column was baffling and disconcerting to leading food warriors. I can understand why they might feel that way. For in previous columns dating back the last few years, Bittman was singing a different tune.
From a 2012 column urging that genetically modified foods be labeled:
G.M.O.'s, to date, have neither become a panacea — far from it — nor created Frankenfoods, though by most estimates the evidence is far more damning than it is supportive.
From one of his columns last year: Read More
It wasn't that long ago that global warming was mostly discussed as (and believed to be) a distant threat– the scope, timing and severity of its impacts considered uncertain. Then in recent years, as climate scientists began studying and asserting linkages between greenhouses gases and severe weather events, the discourse shifted.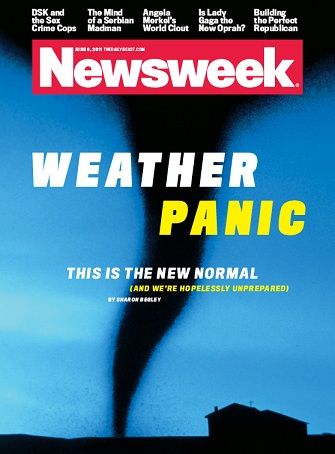 We are now at the point where everything from typhoons and mountain climbing tragedies to civil wars and wildfires are seen through the prism of global warming. This is not to discount man-made climate change as a contributing factor to particular extreme weather events and related disasters; I'm just making an observation about the one dimensional lens increasingly used by many to view the world at large. By suggesting this, am I off-message, unhelpful, contrarian?
Regardless, no one can dispute the new discourse of climate change as an immediate and urgent concern. This week's orchestrated roll-out of a new U.S. government report on climate change officially cements the "new normal," a phrase used to characterize everything happening now in the context of climate change.
NBC had perhaps the darkest take on this new era. Read More
From The Economist's Demography and Development blog, several months ago:
FACTS can be stubborn – and irritating. It is satisfying—perhaps even gratifying—to accept the idea that genetically modified crops are causing thousands of Indian farmers to commit suicide (as this article claims). The notion seems plausible: farmers take out higher debts on the promise that GM seeds will be a bonanza and then lose everything when the harvest fails. There is genuine distress: farmers are indeed killing themselves. Their cause has been adopted by high-profile campaigners such as Britain's Prince Charles and India's Vandana Shiva, who blames the spate of deaths on Monsanto, an American biotech firm.
Shiva, a prominent environmentalist, has spread this false narrative in the media for years. To understand how she's done it, and who has enabled her, read my recent feature in Issues in Science and Technology. Read More
Login to your Account
X
Forgot your password?
No problem. Click
here
to have it e-mailed to you.
Not Registered Yet?
Register now for FREE. Registration only takes a few minutes to complete.
Register now »