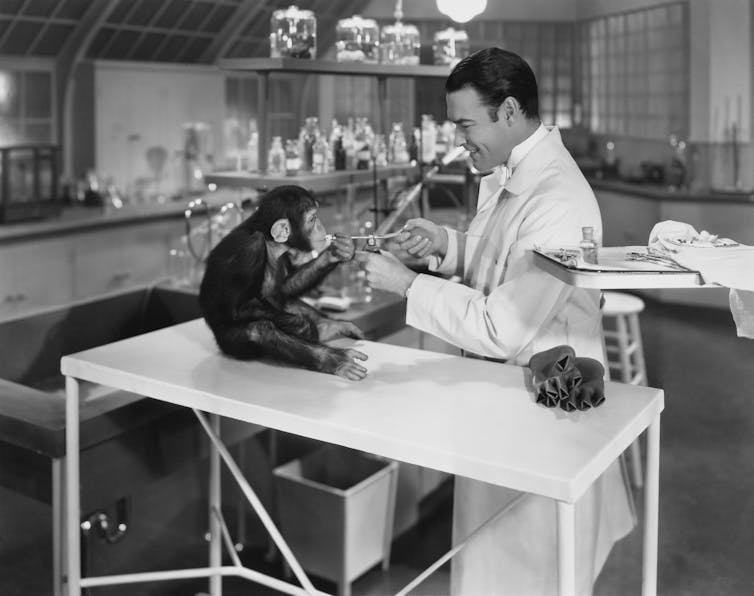 The recent allegations that researchers funded by the German car industry tested the effects of diesel fumes on humans and monkeys has raised serious questions about research ethics in the corporate world.
These tests were carried out by scientists on behalf of the now-disbanded European Research Group of Environment and Health in the Transport Sector (EUGT), which was funded by Volkswagen, Daimler and BMW. The aim was to observe and record the pollutant effect of emissions from diesel cars using modern exhaust-cleaning technology. Read More
Flu season in the U.S. typically peaks in February, but this year's outbreak is already one of the worst on record. As of Jan. 6, 20 children have died from the flu, and overall mortality caused by the flu is already double that of last year's.
One reason the flu is so severe this season is that the dominant strain is H3N2, which has an impressive ability to mutate and is particularly aggressive against Americans over 50. Read More
Most people don't enjoy going to the dentist. There's just something off-putting about having your mouth wide open while someone's scratching and scraping your precious chompers. But at least dentists can give you Novocain to make your mouth go numb for the more intense procedures.
You were born in the best of times, because for the majority of the human timeline, our ancestors didn't have it so easy.
Cavities really started wreaking havoc when humans started farming about 12,000 years ago—possibly even as far as 23,000 years in what is modern-day Israel. Carbohydrates, from our more grain-heavy diet, break down into sugar and feed cavity-causing bacteria that eat away at healthy teeth. Scientists have even unearthed remains that show dental work that predates the agricultural revolution, proving that people have been trying to deal with dental pain for too damn long. Read More
"Aw, you still have your baby fat!" This refrain plagued me throughout my childhood. No matter what I did, I couldn't shake my "baby fat." I was not a particularly overweight child. I just seemed to maintain the round cheeks and pudgy tummy that most of my friends shed early on. "Oh, sweetheart, don't worry," my mother would say, "it will keep you warm. Just a little added insulation." She wasn't even half right.
In the years since, I've become an anthropologist who studies nutrition, human growth, and development. And, as it turns out, I wasn't the only one who carried a few extra pounds. Humans are the fattest species on record at birth. A baby human is born with about 15 percent body fat—a higher percentage than any other species in the world. Only a small number of other mammals make it into the double digits at birth: about 11 percent for guinea pigs and around 10 percent for harp seals, for example. Even our nearest primate relatives are not born as fat as we are. Read More
Michael Bisping has fought professionally in mixed martial arts since 2004. Last year, the journeyman won his first title. He knocked out Luke Rockhold in the first round to win the middleweight belt in the Ultimate Fighting Championship, or UFC, the most popular of several MMA organizations.
On Nov. 4 of this year, at age 38, Bisping defended his title for a second time. His opponent was the Canadian Georges St. Pierre, a former UFC champ. The fight, held in New York's Madison Square Garden, was close until the third round, when a series of blows knocked Bisping to the canvas. Pierre pounced on the fallen fighter and applied a rear-naked choke, cutting off oxygen to Bisping's brain. His body went limp. Read More
At some time or another, every historian of Rome has been asked to say where we are, today, on Rome's cycle of decline. Historians might squirm at such attempts to use the past but, even if history does not repeat itself, nor come packaged into moral lessons, it can deepen our sense of what it means to be human and how fragile our societies are. Read More
Dogs are sending us an early warning signal about the spread of a potentially deadly tapeworm in North America.
The tapeworm, Echinococcus multilocularis, is normally found in rodents and other wild animals, including coyotes and foxes, but can spill over into cats and dogs — and even humans. Read More
A team of scientists in the United Kingdom and the U.S. recently reported the discovery of pathological signs of Alzheimer's disease in dolphins, animals whose brains are similar in many ways to those of humans.
This is the first time that these signs – neurofibrillary tangles and two kinds of protein clusters called plaques – have been discovered together in marine mammals. As neuroscience researchers, we believe this discovery has added significance because of the similarities between dolphin brains and human brains. Read More
If you speak to someone who has suffered from insomnia at all as an adult, chances are good that person has either tried using marijuana, or cannabis, for sleep or has thought about it.
This is reflected in the many variations of cannabinoid or cannabis-based medicines available to improve sleep – like Nabilone, Dronabinol and Marinol. It's also a common reason why many cannabis users seek medical marijuana cards. Read More
Ask people to name the most famous historical woman of science and their answer will likely be: Madame Marie Curie. Push further and ask what she did, and they might say it was something related to radioactivity. (She actually discovered the radioisotopes radium and polonium.) Some might also know that she was the first woman to win a Nobel Prize. (She actually won two.)
But few will know she was also a major hero of World War I. In fact, a visitor to her Paris laboratory in October of 1917 – 100 years ago this month – would not have found either her or her radium on the premises. Her radium was in hiding and she was at war. Read More