BLOGS
Darting spaceships. Dazzling lasers. Fiery explosions. All of these are things that a war in space would almost certainly not involve.
Ever since Star Wars, the public has been fascinated by the visuals of space conflict — it's futuristic, thrilling, and cosmic battles are bereft of the gore that so often accompanies terrestrial conflict. And ever since Sputnik, humans have been putting things into space, pieces of technology that are now vital cogs in the machinery of society. We rely on satellites for everything from credit card transactions to mapping apps. The military needs satellites for communication, as well as for the imaging that lets them keep an eye on friend and foe alike.
Therefore, forget about the Death Star, this amalgamation of blinking hardware floating in Earth's orbit would be target numero uno. But would it be wise to pull the trigger? Read More
We all know that individuals fight over potential love interests. Just think of Daniel Cleaver (Hugh Grant) and Mark Darcy (Colin Firth) scuffling, rather impotently, over Bridget Jones in a fountain. But you might be surprised to hear that the fierce rivalry continues behind the scenes — in the form of sperm competition. This is when the sperm of two or more males compete inside the reproductive tract of a female, to fertilize the eggs, something that is widespread in the animal kingdom.
It is generally assumed that the sperm in a female's reproductive tract around the time of fertilization will belong to one male. But DNA fingerprinting has revealed that even "monogamous" bird species that form exclusive pair bonds are not as exclusive as was once thought. Read More
From the way you move and sleep, to how you interact with people around you, depression changes just about everything. It is even noticeable in the way you speak and express yourself in writing. Sometimes this "language of depression" can have a powerful effect on others. Just consider the impact of the poetry and song lyrics of Sylvia Plath and Kurt Cobain, who both killed themselves after suffering from depression.
Scientists have long tried to pin down the exact relationship between depression and language, and technology is helping us get closer to a full picture. Our new study, published in Clinical Psychological Science, has now unveiled a class of words that can help accurately predict whether someone is suffering from depression. Read More
I'm a scientist and my job is to look below the surface of the earth. One of the questions often asked of people working with what we call geophysical imaging is, "How deep can you see?" It's a difficult question to answer of course, since one person's "deep" is another person's "shallow", and what is deep to the archaeologist will barely scratch the surface for the planetary seismologist.
For my own part, I'm a "near-surface geophysicist", interested in the physical properties of material within the upper 100 meters of the ground – the rock, soil and (occasionally) ice located directly in the zone of human interaction – and I'll often apply ground-penetrating radar to these targets. But there is still a lot that can happen in 100 meters: indeed, go to the right place, and even the top meter of the ground is a bustling metropolis of mammals. And that's how I ended up investigating an underground meerkat maze for the new BBC series Animals with Cameras. Read More
Earlier this month, the U.S. Department of Defense became the latest agency to adopt a burgeoning start-up boot camp pioneered by the National Science Foundation's Errol Arkilic.
In 2011, Arkilic reached out to Steve Blank, a Stanford University professor who would soon be one of Silicon Valley's most influential innovators.
"I've been reading your blog," Arkilic told Blank. He had 10,000 scientists hoping to turn their research into tech startups. Blank's mission, should he choose to accept it, would be to develop a program that ensure they succeeded. "Oh by the way, there's no funding for you."
Blank had sharpened his business acumen as a serial entrepreneur, founding and fostering eight startups himself, four of which, (the last being the customer relations software company Epiphany, Inc.) eventually went public. Read More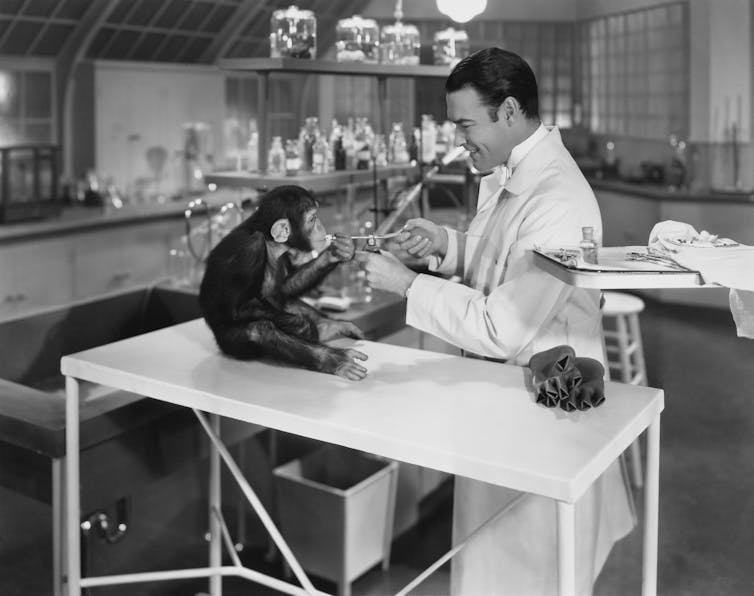 The recent allegations that researchers funded by the German car industry tested the effects of diesel fumes on humans and monkeys has raised serious questions about research ethics in the corporate world.
These tests were carried out by scientists on behalf of the now-disbanded European Research Group of Environment and Health in the Transport Sector (EUGT), which was funded by Volkswagen, Daimler and BMW. The aim was to observe and record the pollutant effect of emissions from diesel cars using modern exhaust-cleaning technology. Read More
A recent call from British Member's of Parlaiment to put a 25 pence levy on disposable coffee cups, and bans on plastic products cropping up across the country, show that the UK is getting serious about tackling collective individual behavior which threatens the environment.
Large-scale programs aimed at changing people's behavior are rare – but they do happen. Take Britain's various carrier bag charges, for example, which led to plastic bag use in England falling by 80 percent in just one year. But while these initiatives are definitely needed, we need to look at other, broader, solutions too. That's why, in October 2017, the Welsh Assembly supported a feasibility study to look at piloting an environmental behavioral policy across Wales: personal carbon accounts. Read More
Maslow's motivational pyramid is but a house of cards if we don't eat. And ever since we started shoving sustenance into our gullets, our species has devised means to do it faster—lest we beleaguer our journey to transcendence.
In 2011, a team of archaeologists working near Kenya's Lake Turkana unearthed several stone tools in sediment that was 3.3 million years old; they were the oldest ever found. From this starting point chiseled from stone, the parabolic arc of meal-gathering technology—arrowheads, taming wheat, spears, domesticating goats, irrigation, barcode scanners—has traced a path squarely through the turnstiles of Amazon Go. Read More
Flu season in the U.S. typically peaks in February, but this year's outbreak is already one of the worst on record. As of Jan. 6, 20 children have died from the flu, and overall mortality caused by the flu is already double that of last year's.
One reason the flu is so severe this season is that the dominant strain is H3N2, which has an impressive ability to mutate and is particularly aggressive against Americans over 50. Read More
Earlier this week, an international team of geologists and climate scientists parked their ship off the coast of West Antarctica and started drilling. Their mission: To find out why glaciers here melted millions of years ago and what that can tell us about what's happening today.
Over the next couple months, their ship, the International Ocean Discovery Program's JOIDES Resolution, will drill at least five core samples reaching thousands of feet below the Ross Sea. These cores will let scientists read layers in the rock record like pages of a book, unraveling climate and ice conditions stretching back tens of millions of years. Read More