Category: Uncategorized
By Jon Winsor
One recent discussion on this blog has been whether the tea party is libertarian or authoritarian. Rick Perry, the tea party's candidate of choice, has been billing himself as a states rights-inflected libertarian, as his recent book Fed Up! attests. (See the Washington Post's Ruth Marcus for some highlights here.)
But columnists have been pointing out that the ostensibly libertarian Fed Up is of fairly recent vintage. The older Perry had quite a different political brand: that of a crusading culture warrior. Dana Milbank writes,
Yes, Perry is passionately anti-government, or at least anti-this-government. But the man who suddenly tops the Republican presidential polls is no libertarian.

For an eyeful of the full Perry, crack his 2008 book, On My Honor… [One quote:] "The radical homosexual movement seeks societal normalization of their sexual activity. . . . They must respect the right of millions in society to refuse to normalize their behavior…"

In a series of hoary bromides, the supposedly libertarian Perry condemns the "litigious advocates of licentious behavior" (that's the ACLU) and informs us that "Sometimes the rules must protect society at large at the expense of individual expression when that expression is deemed harmful to others and society at large…"

Among the things Perry "deems" harmful: universities (students "have been taught that corporations are evil, religion is the opiate of the masses, and morality is relative"); human rights commissions ("often nothing more than a front for attacking institutions that teach traditional values"); and evolution (he says "the weight of evidence" supports intelligent design)… Read More
This is a guest post by Jamie L. Vernon, Ph.D., a research scientist, policy analyst and science communications strategist, who encourages the scientific community to get engaged in the policy-making process


***Update (huffington post): Actress Daryl Hannah has joined the over 500 people who have been arrested since August 20 for a sit-in protest outside the White House.

I just left the White House where environmental activist Bill McKibben was joined by actress Daryl Hannah and dozens of concerned citizens to prepare for another day of protests against opening the Keystone XL Pipeline. They are opposing U.S. approval of the pipeline, a 1,700-mile pipe from Canada to Texas, that would transport petroleum fuels across multiple states and below one of the nations largest aquifers. The campaign has been going on since August 24 and over 500 people have been arrested including Dr. James Hansen, head of NASA's Goddard Institute for Space Studies.
Dr. Hansen explained his participation in the protest by stating, "Einstein said to think and not act is a crime. If we understand the situation, we must try to make it clear."
Hansen has previously described the opening of the pipeline as "game over" for our climate. He described the situation to Solve Climate News this way:
President George W. Bush said that the U.S. was addicted to oil. So what will the U.S. response to this situation be? Will it entail phasing out fossil fuels and moving to clean energy or borrowing the dirtiest needle from a fellow addict? That is the question facing President Obama.

If he chooses the dirty needle it is game over because it will confirm that Obama was just greenwashing, like the other well-oiled coal-fired politicians with no real intention of solving the addiction. Canada is going to sell its dope, if it can find a buyer. So if the United States is buying the dirtiest stuff, it also surely will be going after oil in the deepest ocean, the Arctic, and shale deposits; and harvesting coal via mountaintop removal and long-wall mining. Obama will have decided he is a hopeless addict.
President Obama has deferred to Secretary of State Hilary Clinton for the ultimate decision. I'll let the Secretary's own words speak for her:
What do you think? Is the Obama Administration making us safer and creating jobs by approving the pipeline?
Behind the scenes images (below) captured by Jamie Vernon: Read More
This is a guest post from Darlene Cavalier, founder of Science Cheerleader and Science For Citizens and contributing editor at Discover Magazine.

Scientists want you to record and share rain measurements and other on-the-ground observations in part to help pinpoint hurricane Irene's actions, determine her next steps, and better predict and react to future storms. In addition to your help recording on-the-ground rain precipitation, scientists rely on watershed volunteers to provide important clues about the effects of storm-water runoff, carbon cycles of waterways, etc. Here's a list of opportunities to get involved in local watershed monitoring efforts.
To help scientists record on-the-ground rain measurements, you will need a high capacity rain gauge.
Don't have a rain gauge? Enter here to win a free one so you can join in next time! Through the Changing Planet series, a partnership with National Science Foundation, NBC Learn, and DISCOVER Magazine, we're offering up to 20 of these gauges to our members, free of charge ($25 value).
(Note: Safety first. Please heed all evacuation recommendations issued in your area.)
Not able to collect and measure rainfall? Anyone with a computer can also get into the act. The Philadelphia Inquirer published sites where you can find real-time information from ocean buoys, bridges, area stream gauges, and even satellites. [Find list of links, below.]
Here are some opportunities for you to measure rainfall:
The Community Collaborative Rain, Hail, and Snow Network (CoCoRaHS) is a volunteer network of backyard weather observers. People of all ages measure and map precipitation (rain, hail and snow) in communities across the United States. The data is used by a wide range of agencies and programs.

Volunteers are needed for two programs.

SKYWARN spotters are essential information sources for the National Weather Service with the responsibility to identify and describe severe local storms. Observations by spotters helps the National Weather Service issue more timely and accurate warnings for tornadoes, severe thunderstorms, and flash floods and thus save lives.
Not on the east coast? Here's one for south westerners. Join RainLog's network of over 1,000 volunteers that use backyard rain gauges to monitor precipitation across Arizona and in neighboring states. Data collected through this network will be used for a variety of applications, from watershed management activities to drought planning at local, county, and state levels.
Kids: Tracking Climate in Your Backyard seeks to engage youth in real science through the collection, recording, and understanding of precipitation data in the forms of rain, hail, and snow.
Here are some websites, originally published by the Philadelphia Inquirer, that post data and images to answer the following questions:
How fast is the nearest stream rising?
A U.S. Geological Survey site logs data from stream gauges. http://pa.water.usgs.gov/
Is there a storm-surge tracking map?
Developing, by the U.S. Geological Survey. http://water.usgs.gov/osw/floods/2011_HIrene/index.html
How hard is it blowing in your neighborhood?
Greg Heavener, National Weather Service meteorologist in Mount Holly, recommends this site, where people with personal stations upload their data. Searchable by zip code. http://www.wunderground.com/
What are Delaware River observations?
Includes data from water-level sensors installed on bridges after past floods. http://www.water.weather.gov
What's happening offshore?
The National Oceanic and Atmospheric Association logs ocean-buoy data, including wind speed and wave heights. http://www.ndbc.noaa.gov/
Rutgers University is part of the Mid-Atlantic Regional Association Coastal Ocean Observing System, which posts data on satellites and the underwater "gliders." Has an Irene science blog. http://www.maracoos.org/
What does Irene look like?
The National Weather Service's Hurricane Center has the most recent forecasts, including radar images and wind-speed probabilities. http://www.nhc.noaa.gov/
How about from space?
NASA images and video. http://www.nasa.gov/ mission_pages/hurricanes/main/index.html
This is a guest post by Jamie L. Vernon, Ph.D., a research scientist, policy analyst and science communications strategist, who encourages the scientific community to get engaged in the policy-making process
I woke up this morning to an unexpected jolt, and I don't mean another earthquake shake.  Nope, this was a little more invigorating. It seems PZ Myers didn't like my post about Richard Dawkins and he has decided to turn me into a pinata.  I rather enjoyed his piece. He makes some interesting and entertaining points (some well-founded, some…not so much). I don't mind taking some heat for my opinions. We all know it's part of being a blogger, right?
I've always been amazed by the mob that he unleashes on unsuspecting religious fanatics.  They are quite effective at taking down their prey.  I wish I had been given more notice, I would have at least done my hair and makeup before the party.  I sincerely welcome all the new commenters to The Intersection.  I hope Chris doesn't mind that I'm wrecking his house while he's away.
If you don't know Mr. Myers, he's an atheist blogger who takes a zero tolerance stance against religion.  Personally, I think he's an entertaining character, sort of like Bill O'Reilly and Sean Hannity…Ed Schulz, even.  To me, what he does is entertainment, not science communication, but that's another story.  It's a story I'll try to come back to later. Today, I have to do some science and I really don't have time for a cage match with the Pharyngulites. But, don't worry folks, I'm here and I'm listening. If you get unruly, though, I'll have to put you in time out.
What?! It works for my 2 year old.
If we all step back and take a deep breath, we might be able to have a conversation. We might actually learn something from one another.  After all, we speak the same language.  Yelling is not a more effective way to make your point. After I do some work, perhaps I'll have some time to share my thoughts and I'll listen to yours, Mr. Myers and Pharyngulites. Even with our differences, I know we're on the same team.
In the meantime, take a look at this video, and I think you'll get my point:
Follow Jamie Vernon on Twitter, Google+ or read his occasional blog posts at "American SciCo."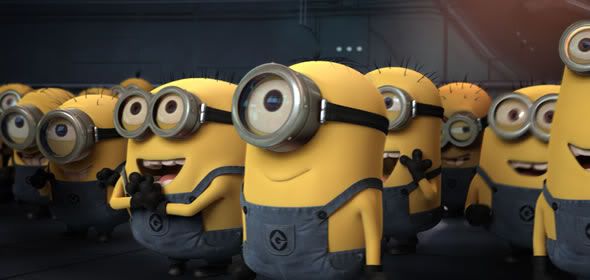 By Jon Winsor
Rick Perry leaves a lot to be desired on science policy. But paradoxically, his campaign makes rigorous use of the scientific method–more than any other campaign. According to reporter Sasha Issenberg, the Perry campaign has a team they call "the eggheads" who advise them on what campaign appearances they should schedule and when. Here's Issenberg interviewed in the New York Times:
No candidate has ever presided over a political operation so skeptical about the effectiveness of basic campaign tools and so committed to using social-science methods to rigorously test them.

As the 2006 election season approached, the governor's top strategist, Dave Carney, invited four political scientists into Perry's war room and asked them to impose experimental controls on any aspect of the campaign budget that they could randomize and measure. Over the course of that year, the eggheads, as they were known within the campaign, ran experiments testing the effectiveness of all the things that political consultants do reflexively and we take for granted: candidate appearances, TV ads, robocalls, direct mail. These were basically the political world's version of randomized drug trials, which had been used by academics but never from within a large-scale partisan campaign… Read More
Despite our repeated requests, neither spokesman [for Perry] provided any evidence to back up Perry's claim that "a substantial number of scientists … have manipulated data so that they will have dollars rolling into their projects" — perhaps because that particular scandal appears to be a figment of Perry's imagination.

Perry appears to be referring to hundreds of e-mails that were stolen from the Climatic Research Unit at the University of East Anglia in Britain and then disseminated on the Internet in 2009. One e-mail made references to adding a "trick" in the data, leading climate change skeptics to claim the data was manipulated.

But, although Perry claimed the scientists "were found to be manipulating this data," five investigations have since been conducted into the allegations — and each one exonerated the half-dozen or so scientists involved.

So, in contrast to Perry's statement, there have not been a "substantial number" of scientists who manipulated data. Instead, there were a handful — who were falsely accused.
And so Perry gets four Pinocchios. But don't expect Perry–or his supporters–to admit that they're wrong or change their views!
That would be so…scientific.
Guest blog post from Darlene Cavalier, founder of Science Cheerleader and Science For Citizens and contributing editor at Discover magazine.
Arizona Cardinals Science-minded Cheerleaders Will Take Your Questions Now.
Six Arizona Cardinals cheerleaders, pursuing science and engineering careers, are now fielding questions from the public. Ask them anything. Questions with the most votes from the public will be answered by the cheerleaders during a videotaped interview on August 25.
The Science Cheerleaders are part of a troop of more than 100 current and former NFL and NBA cheerleaders pursuing science careers. Their goal is to playfully challenge stereotypes and inspire young women to consider science and technology fields.
These women are mathematicians, medical doctors, chemists and engineers. Their goal is to challenge the stereotypical image of
female scientists as lonely, unhappy, lab rats and show young girls that there is another path forward.
The Science Cheerleaders have demonstrated an ability to connect to groups traditionally underrepresented in science and technology fields, potentially broadening educational and workforce funnel.
Cheerleaders from the Redskins, Titans, Chiefs, Texans, Eagles, and Rams among others perform across the nation, shaking their pom poms and divulging science and math facts about energy, electricity, atoms, math, and engineering. They even get crowds to participate in citizen science projects.
At the live events, the Science Cheerleaders are often asked, "What's it like to be a cheerleader AND a scientist?" or "When did you first know you wanted to be an engineer?" "How do you deal with the extreme stereotypes?"
Now's your chance! The 2011-2012 Arizona Cardinals Cheerleaders have offered to answer the most popular questions
submitted through Tuesday August 23rd (one week!). We'll be visiting their training facility in Tempe, AZ, the following week to get all the answers.
People can submit questions to these Science Cheerleaders by tweeting to @SciCheer or commenting on the blog post,
the YouTube video, or Facebook Page.
Here's a sample of who some of these remarkable women are. (Take a look and then ask 'em anything by August 23rd!)
Hi, I'm Samantha, and I'm not just you're average cheerleader; I'm studying Engineering Management with a focus in Mechanical Engineering at Arizona State University. I am also a national member of the Society of Women Engineers and currently interning at Microchip Technology. This is my rookie year as an Arizona Cardinals Cheerleader, but I have been dancing my whole life and even won the national pom championship my senior year of high school.
Hi, my name is Maria, and I am a rookie member of the 2011 Arizona Cardinals Cheerleaders. I graduated from Rice University with a degree in political science and earned my J.D. from the University of Arizona in 2010. When it's not gameday, you can find me at work as an Advocacy Specialist for the Girl Scouts, where I collaborate with local lawmakers on policies to provide increased exposure to the national Science, Technology, Engineering, and Math initiative. Helping to promote the next generation of female scientists, engineers, IT professionals, and mathematicians is one of the most rewarding aspects of my job!
My name is Jacque, and I am a Licensed Professional Civil Engineer who received my B.S.E. in Civil Engineering from Arizona State University. I have been cheerleading since the age of five, and I am proud and honored to now be a professional cheerleader and a rookie member of the amazing Arizona Cardinals Cheerleaders.
Got a question? Something on your mind? Ask 'em anything before August 23!
Learn more about the Science Cheerleaders.
This is a guest post from Darlene Cavalier, founder of Science Cheerleader and Science For Citizens and contributing editor at Discover Magazine.

If it's sunny wherever you are today between 4:00 and 7:00 pm local time, contribute to science by taking a photo of a blank white piece of outside in the sun (try to avoid cloud cover). Your photo will be used in an informal study to measure how much of the sun's energy is reflected back into the skies from the Earth — our planet's "albedo." It's one way scientists can monitor how much energy – and heat – is being absorbed by our planet.
Here is what you need to do to participate in this citizen science project on ScienceForCitizens.net (a partner of Discover Magazine , NBC Learn, and the National Science Foundation's Changing Planet series):
Today, (August 5, 2011) take a photo between 4:00 pm and 7:00 pm local time. Put a white piece of paper on a flat surface. The white paper should fill 1/4 to 1/2 of the total view. Do not cast a shadow on the image. Snap a digital photo. No flash.
Simply upload your photo here, and include your location (either city/state or latitude/longitude) and description of the background surface (grass, sand, etc).
Albedo is measured by comparing the response of the white card to the response of the ground surface. Data points will be depicted on a map later. We'll let you know when the results are ready!
There will be more opportunities to contribute to albedo measurements in the future.Sign up to be notified about the next study!
By Jon Winsor
Mitt Romney has been trying to do the impossible. He's been trying to claim a science-based position on climate change and be a tea-party friendly candidate who can compete with Michele Bachmann. His recent populist growls to keep his base happy seem like attempts to do this.
Now comes Jon Huntsman, who is clearly trying to scoop up the non-tea-party vote. As the Politico reports on Huntsman's recent speech to Republicans for Environmental Protection (REP):
"Conservation is conservative," Huntsman said. "I'm not ashamed to be a conservationist. I also believe that science should be driving our discussion on climate change…."
Apparently, this position has gotten some attention from someone Chris is familiar with Steve Milloy and Junkscience.com:
Outside the Hyatt Regency on Capitol Hill, climate change skeptics from JunkScience.com had a digital billboard mounted on the back of a pickup truck circling the block. The display called the group "Rinos for EPA Protection," and labeled Huntsman "Utah's Al Gore."
Interestingly, there is another front that Huntsman has been a "fighting moderate" on: the debt ceiling crisis. Read More
This is a guest blog post from Darlene Cavalier,  founder of ScienceCheerleader.com and ScienceForCitizens.net
Last night,  Laura Eilers, AKA Ms. Virginia, was crowned MS. UNITED STATES OF AMERICA! The Science Cheerleaders–current and former NFL and NBA cheerleaders pursuing science and engineering careers–are very fortunate to have Laura as our extremely talented choreographer and creative director.
In addition to being a former cheerleader for the St. Louis Rams, cheerleader and choreographer for the Kansas City Chiefs, and an NFL Hall of Fame Game Cheerleader, she's also the creator of  Going Pro Entertainment, LLC, a network of professional cheerleading and dance alumni.
In school, her favorite science projects included "creating an amoeba structure out of cookie cake and icing, researching anthropologist Dian Fossey and her work with gorillas, as well as engineering a balsa wood structure that could withstand heavy weights. My team and I tested the structure repeatedly and competed with other schools for the strongest balsa structure."
And, yes, she "most definitely believes evolution should be taught to our children."
Congratulations, Laura!
And now, I'd like to turn your attention to a recent blog post written by Joshua Rosenau at Thoughts from Kansas. Following up on all the chatter surrounding the Miss USA contestants' answers to the question of whether evolution should be taught in schools, Josh writes:
I'm glad to see professional cheerleaders and pageant contestants stepping up and talking about science. It has to have been nerve-wracking for the Miss USA contestants to be asked about the question without time to prep, and I think the awkwardness and "ums" and "likes" and "you knows" in the transcript mostly just reflect how people actually talk, especially when we're nervous. The substance of the Miss USA pageant answers wasn't at all impressive, but the fact that the pageant thought Miss USA should be able to speak about science education is impressive.

Ms. Virginia, or "huge science geek" Miss California (now Miss USA), can go into rooms and connect with audiences that just don't care to listen to anything said by me, or PZ Myers, or Richard Dawkins, or Eugenie Scott. So can a professional cheerleader. And if the goal is to make a more science literate society, it behooves us to make sure that women waving pom poms or wearing a sash with a state name on it are just as ready to talk about the joys of science as a doctor in a white coat or a geologist in dusty jeans.

And at the end of the day, I smile every time I see Cavalier play this video. Because why shouldn't a little girl at a massive science festival want to be a doctor and a teacher and a cheerleader? How better to encourage all of her dreams than to chat with a former professional cheerleader who is now a doctor and cheers for science? Someone else might see that you can call yourself a science geek and a history geek and still be chosen Miss USA, and decide to take her schooling more seriously. And that's for the best.
Read Josh's full post here.